MINIATURE ENGINEERING MUSEUM - WHERE ENGINES GATHER
Paul and Paula Knapp
UPDATE 06-14-2010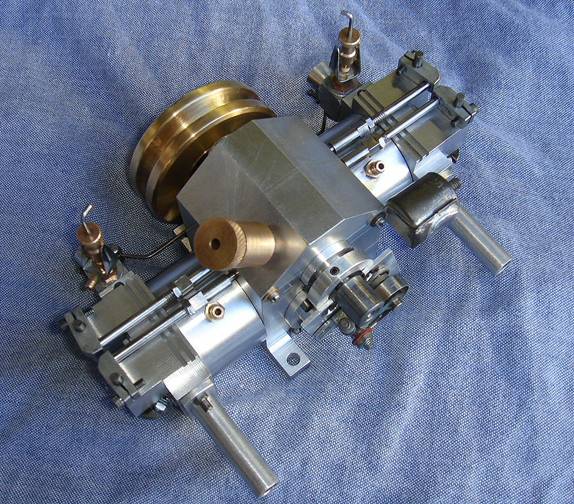 Paul Bennett's First Engine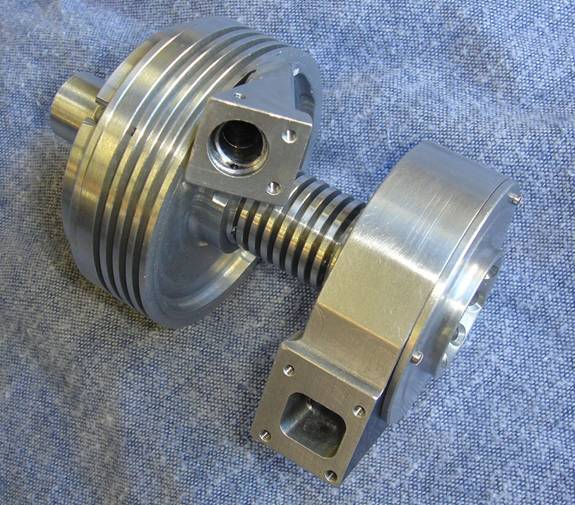 Frank Kurz's Turbocharger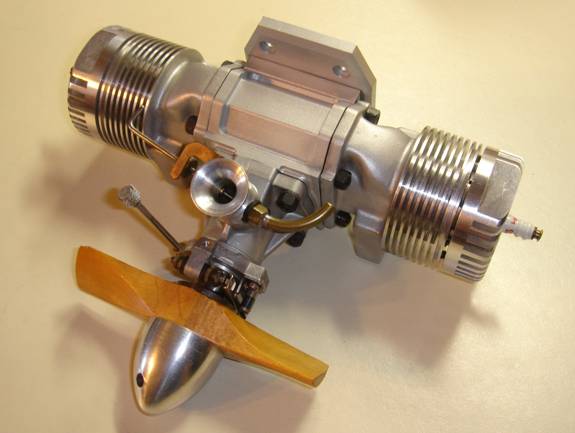 John Nuovo's Twin

Steam Powered Truck
Our thanks go to Margie Bennett (late Paul Bennett's wife) for donating to our Miniature Engineering Museum. Paul designed this opposed water-cooled twin for a boat and built it in 1969. An article (with drawings) documenting his effort was published in Model Engineer magazine in January 1972. It has a 1-inch bore with a ¾ inch stroke, double throw crank, and runs on gasoline with spark ignition. The engine requires manual lubrication of the rockers and pushrods and oil must be added to the crankcase before operation. It is completely machined from aluminum and steel bar stock. Thank you, Margie, for your support and your wonderful contribution to our Miniature Engineering Museum effort.
Dick Pretel donated a vertical twin cylinder engine built by the late Frank Kurz. Frank apparently purchased a casting kit for a small compressor from Cole's Power Models (no longer available) and converted it into this overhead cam, two-cylinder masterpiece. It has a starter that doubles as a generator to power the small electric cooling fan. Frank had a knack for incorporating already existing components and unrelated mechanisms into his engines; this one is no different as he utilized an iris diaphragm from a vintage camera for air control into the carburetor. It is a gas burner with spark ignition and has a 1.25 inch bore and stroke.
Dick also sent along a small turbocharger designed and built by Mr. Kurz. We believe he built it in the 80s and it appears to have been hooked up to an engine and tested, however, we do not know anything about its performance. It is machined from aluminum bar stock with ball bearings at each end. Thank you, Dick, for your continued support and generous contributions.
R. William Kent brought us another engine by John Nuovo. It is an opposed two-cylinder aircraft engine that John designed and built using existing cylinders from two vintage single-cylinder model engines. It is about a .120 size with a double throw crank and it is one of only two (of this type) that he produced. John says the second engine is almost identical, but has a carburetor in the front and one in the back of the engine. It burns methanol on spark ignition and uses castor oil for lubrication. Our sincere thanks go to Mr. Kent for his consideration, and continued support of our MEM effort.
Mike Showah of Arizona kindly donated these rare metal machining kits from Edelstaal. American Edelstaal distributed the little Unimat lathe and these kits were designed to give the new users a project to help get started in machining. Mike purchased the kits for that same reason, but he quickly moved on to other projects and never went back to these. The kits are relatively small (truck is about 4.5 inches long) and contain bits of metal stock, a few gears, hardware, and instructions. The steam powered truck included a small Tonka Toy Van so you could build an authentic looking steam powered vehicle. Click the following link to see one of these rare little trucks in action: http://www.youtube.com/watch?v=QHk2ONOMMQU: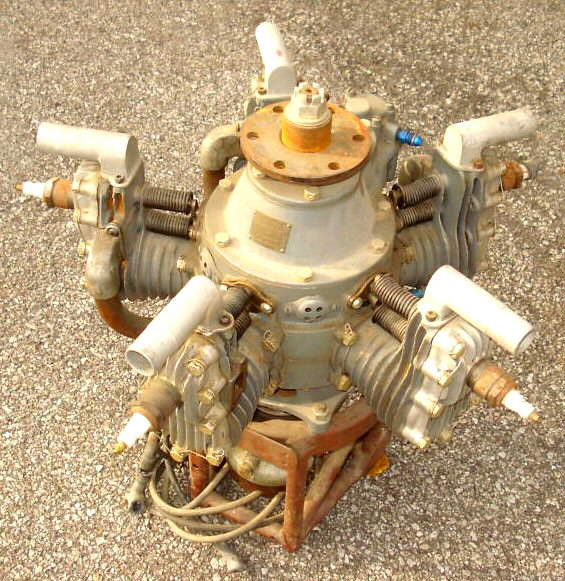 Brooks Aeromotive Radial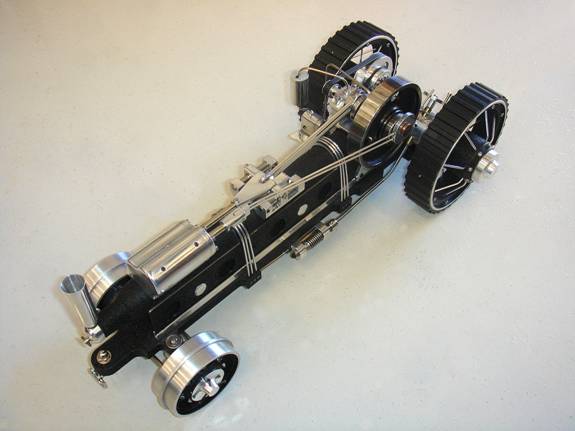 Steam Traction Engine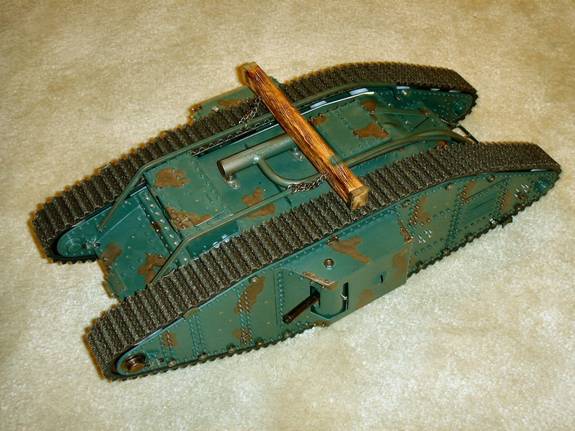 British Mk. IV Tank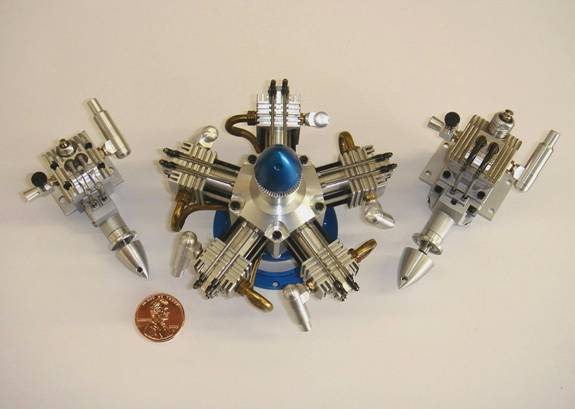 Ronald Valentine's Engines
We acquired a small (not quite miniature) radial engine designed and built by Dickinson Brooks Aeromotive Co. of Burbank CA. Little is known about this engine other than it is a side valve 5-cylinder radial only 18 inches in diameter, has dry-sump lubrication, a single magneto for ignition, and it is designed to burn gasoline. It weighs in at 65 pounds and may have been designed for a ground power unit although the propeller hub suggests otherwise. D&B Company was assigned an aircraft identification "N" number during the Golden Years of Aviation (according to the U.S. Aircraft Registry) but there is no other information, dates, or photos of the aircraft. We have not been able to learn any more about this engine so if anyone can provide any information about it or the Dickinson Brooks Company we sure would appreciate it. T his one will be a pleasure to restore to running condition again; maybe even demonstrate it on test stand one day.
Stephen J. King from Florida provided us with a couple more miniatures he designed and built. First is his modern (Star Wars) concept of a steam traction engine. The reversible double-acting engine has a 0.4 inch bore, 1.25 inch stroke, and a 25:1 drive ratio with a clutch. It is about 14 inches long and runs on water and anything that burns clean. A small pump just ahead of the right wheel feeds oil through the bearings and crankshaft and returns it to a reservoir above the pump. The crankshaft is machined from tool steel with the remaining parts machined from aluminum and stainless steel. It took Stephen two years to build.
Another of Stephen's models is this British MK IV Tank. The MK IV tank is probably the world's first main battle tank. There were about 1200 made in many variations and they participated in virtually every British battle on the Western Front from 1917 until the end of the war. Stephen constructed his model from 1⁄16 steel sheet and over 1200 rivets he made and set by hand. The mock-up 6-cylinder engine houses an electric motor for operation and the tank is capable of travelling about 1000 yards per hour by remote control. He carefully painted and camouflaged his model similar to the full size version, then randomly placed small center-punch marks in several places. He induced rusting of the center-punch marks to give the effect of bullets that struck the surface of the tank during battle. The scale Oakwood 'unditching' beam stowed on top could be chained to the tracks and dragged around underneath the tank if it became disabled or ditched. Stephen said he intended to make individual tread links for treads, but he found a timing belt used in the electronics industry that turned out to be just the ticket for his model.
Ronald Valentine is known worldwide for his craftsmanship and miniature and micro diesel engines. Currently we have a few of them on exhibit at the Craftsmanship Museum and some are so small we used a U.S Quarter for their stand. A little known fact is that Ron built three miniature 4-cycle glow engines back in the late 80s or early 90s. He produced two small single-cylinder, air-cooled, aircraft engines and one 5-cylinder radial engine. I am proud to say that recently we acquired the three engines for our MEM exhibits. The photo shows all three with a penny for a reference to their size; the radial engine measures merely 3.25 inches in diameter and all three engines were machined from bar stock.
You may remember Robert Cooper and his successful flight of the Gigantic last December. There is a link for a video of the historic flight available on the Craftsmanship Museum Internet site in case you missed it in our last update. Robert plans to deliver the Gigantic to us for our MEM exhibits soon. Currently we have 7 large, very important, aircraft to place on exhibit and we hope to acquire air space for them soon. Among them are the museum scale Sopwith Snipe (with a functional Bentley BR2) built by Robert Cooper, Bryan Seeger's world record model turbo-jet powered aircraft, Forest Edwards Polikarpov PO2 powered by his famous 5-cylinder Edwards radial, and a museum scale Avro D built and flown by Robert Cooper. These aircraft hold a significant place in the history of model aviation and will enhance any exhibit hall that houses them.
The MEM collection realized a 10% increase in growth last year and it appears that we will see the same or more this year. We received word from Dale Jordan we may have an opportunity to place some items on display in the Northwest in the near future. This would give us an opportunity to expand our territory as well as rotate some of the items at the Craftsmanship Museum to help keep things interesting and exciting.
Unfortunately we won't make it to the WEME show in Vallejo this year. We are near the completion of our move to Payson, but we just have too many loose ends to tie up at this time. Perhaps we will be able to visit more shows next season and get the opportunity to enjoy that illusive place in life called 'retirement'.
Content Copyright © 2010, MECA
All Rights Reserved


This site requires that JavaScript be enabled on your browser. It is best viewed at 1024x768 or higher resolution. If you experience problems viewing it, please contact the
Webmaster
, Roger LaPrelle.